Reducer Bushing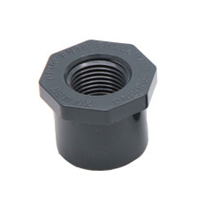 Reducer Bushing
We're here to help Easy ways to get the answers you need.
Contact Us
Details
DESCRIPTION:
1) Material: UPVC, CPVC
2) Size: 1/2'' - 12''; 20mm - 315mm; DN15 - DN300
3) Standard: ANSI SCH80 / DIN PN16
4) Joint End: Socket / Threaded (NPT & BSPT)
5) Working Pressure: 150 PSI
6) Operating Temperature: UPVC(0~55℃); CPVC(0~95℃)
7) Body color : UPVC(dark gray), CPVC(light gray)
INTRODUCTION:

Sometimes a pipe system layout requires the addition of pipes of different diameters. Schedule 80 PVC bushings allow system designers or installers to easily connect two pipes that have different diameters. They carry all of the benefits of thick Schedule 80 pipes made from durable PVC, while still allowing the connection of two different sized pipes.

Schedule 80 PVC bushings are different from couplings, even though both products allow the connection of pipes of two different sizes. Bushings, unlike couplings, contain screw threads that allow the user to securely connect them to the pipe. This allows for a tight seal without the need to use adhesive. This makes bushings the connector of choice in applications where they may need to be replaced or removed on a regular basis.

In many applications, Schedule 80 PVC is preferred over metal. It has a smoother interior, so there is less loss of pressure with PVC bushings than with metal bushings. Also, Schedule 80 PVC bushings are more affordable than those made from metal. Choosing Schedule 80 PVC ensures that the PVC is strong enough to withstand high pressure situations. Schedule 80 PVC has a thicker wall than schedule 40 options, making it the best choice when durability and strength are required. This means that Schedule 80 works well for high pressure applications, such as water treatment and irrigation.

Schedule 80 PVC bushings have a wide range of size options. Opening diameters range in size from ½ inch to 12 inches. Options for end diameters range from 1/2 inch to 8 inches. The threads can be on the inside or the outside of the bushing, depending on the application and the type of pipe they will be used with. This variety of size options ensures that those designing a pipe system can find the right size combination to meet their needs, whether increasing or decreasing the diameter of the pipe used in the layout.
Technical Data
Application