Male Adaptor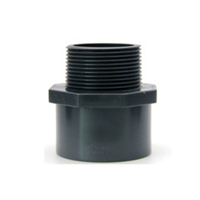 Male Adaptor
We're here to help Easy ways to get the answers you need.
Contact Us
Details
DESCRIPTION:
1) Material: UPVC, CPVC
2) Size: 1/2'' - 4''; 20mm - 110mm; DN15 - DN100
3) Standard: ANSI SCH80 / DIN PN16
4) Joint End: Socket x Threaded (NPT, BSPT, BSPF)
5) Working Pressure: 150 PSI
6) Operating Temperature: UPVC(0~55℃); CPVC(0~95℃)
7) Body color : UPVC(dark gray), CPVC(light gray)
INTRODUCTION:


Schedule 80 PVC adaptors can connect pipes of like or different sizes. They contain both male and female ends, threaded and non-threaded, to be able to connect to most potential piping designs. These simple fittings perform a vital function in the plumbing industry. Because they are so frequently used, these fittings need to be durable enough to withstand the daily force of high-pressure fluids, and that is what makes Schedule 80 adapters so popular. PVC adapters feature a smooth interior finish. This makes the preferred over metal adapters in application where friction and reduced flow is problematic. Because of the materials used for metal adapters, they have a slightly rough interior finish, and this can cause a minimal reduction in flow. This can lead to lower pressure at the end of the system, a problem resolved with the use of PVC adapters.

Schedule 80 PVC adaptors range in size from 1/2 inch to 4 inches, and are commonly used in irrigation, sewage and plumbing. They can also be called reducing couplings by some companies. These two products may be listed separately, but they actually refer to the same item. They work well for any application that requires the plumbing to be buried underneath the ground, as they resist corrosion from soil and will not rust like metal fittings. They can also be used in underwater applications.
Technical Data
Application