Flanged Single Union Check Valve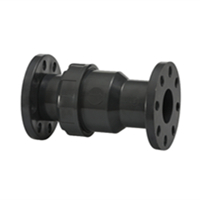 Flanged Single Union Check Valve
We're here to help Easy ways to get the answers you need.
Contact Us
Details
DESCRIPTION:
1) Material: UPVC, CPVC, PP
2) Size: 1/2'' - 2''; 20mm - 63mm ; DN15 - DN50
3) Standard: ANSI, DIN, JIS
4) Joint End: Flanges
5) Working Pressure: 150 PSI
6) Operating Temperature: UPVC(0~55℃); CPVC & PP(0~95℃)
7) Body color : UPVC(dark gray), CPVC(light gray), PP(light yellow)


INTRODUCTION:


A PVC check valve allows for the release of pressure from a pressurized system without the creation of backflow back into the system. These valves are commonly used in situations where backflow could create damage or contamination, such as in filtration or pumping systems. They are designed to work automatically, preventing damaging flow at critical times. These affordable valves are easy to replace and easy to clean. Because the internal components can be removed, maintenance is simple and affordable without tearing apart the entire system.

Technical Data
Application