UPVC True Union Ball Valve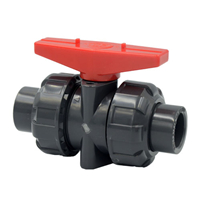 UPVC True Union Ball Valve, UPVC Double Union Ball Valve
We're here to help Easy ways to get the answers you need.
Contact Us
Details
DESCRIPTION:
1) Material: UPVC, CPVC, Clear PVC, PP, PVDF
2) Size: 1/2'' - 4''; 20mm - 110mm; DN15 - DN100
3) Standard: ANSI, DIN, JIS
4) Joint End: Socket, Threaded (NPT, PT, BSPF), Fusion, Welding
5) Working Pressure: 150 PSI
6) Operating Temperature: UPVC(0~55℃); CPVC & PP(0~95℃)
7) Handle color : red, blue, green, orange
8) Body color : UPVC(dark gray), CPVC(light gray), PP(light yellow),
Clear PVC(transperance), PVDF(ivory)
9) Stainless steel bracket & adaptor could be assembled to fit for actuators

INTRODUCTION:


PVC true union ball valves offer a simple way to start and stop flow in a system. True union valves have a carrier that can be removed from the piping system when needed. This allows you to repair or replace the carrier without completely disassembling the system, saving time and money. Our true union ball valves are made from durable dark gray PVC and have an easy-to-grip red handle that turns with minimal effort.

PVC true union ball valves have an internal sphere, or ball, that has a hole through the center. When the user places the valve in the "on" position, that hole lines up with the direction of flow, allowing the media to flow through the system. When the user places the handle in the "off" position, the ball turns to prevent the flow of media through the hole, creating a water tight seal. This ease of operation is an integral part of the design of a PVC true union ball valve.

Our PVC true union ball valves are made from durable PVC. Because they will not rust and can handle changing temperatures, they are a great fit for outdoor applications. Their corrosion resistance makes them popular with commercial and industrial applications as well, especially conditions that require the transport of corrosive chemicals. Their affordability makes them an ideal option for a wide range of applications, including residential uses.

We carry PVC true union ball valves in a wide range of sizes to fit most of your needs. With valves as small as 1/2 inch in diameter all the way to 4 inches, you will find the one you need. Choose from threaded or slip socket valves to match your specific needs. When you need a repair, the true union design allows the main portion of the valve to be easily removed and repaired.


Technical Data
Application